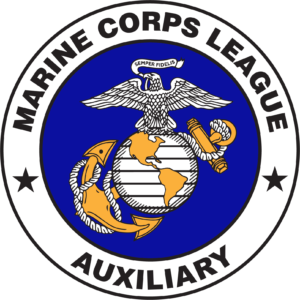 The Department of Virginia Marine Corps League Auxiliary is comprised of 2 units.  Below you will find a listing of all the units.
To learn more about the Marine Corps League Auxiliary, visit the National page.
James M. Slay Detachment #329 Richmond, VA
Email Address: Debbie Boudreau
Meeting Date and Time:
Fourth Saturday of the month,
8:30am for Breakfast - 9:00am for Meeting
Meeting Address:
Virginia Society of CPAs building
4309 Cox Road, Glen Allen, VA
Unit Officers:
President: Debbie Boudreau
Senior Vice-President:
Junior Vice-President: Libby Guilford
Secretary: Linda Terrill
Treasurer: Davette Bent
Judge Advocate: Carla O'Hare
Chaplain: Sally Barrett
Captain of the Guard: Connie Troutman.
Chesapeake Detachment
Chesapeake, VA
Mailing Address:
116 Reservation Road
Chesapeake, VA 23322
Email Address: macefam2@verizon.net
Phone:(757) 490-2496
Meeting Date and Time:
Fourth Thursday of the month 7:00pm (Sep-Jun)
Detachment Quarters
116 Reservation Road Chesapeake, VA 23322
Unit Officers:
President: Betty Mace
Senior Vice President: Glenda Lutz
Junior Vice President: Janice Mykleby
Judge Advocate/Chaplain: Gloria Lutz
Secretary/Treasurer: Vacant
Captain of the Guard: Mary Garcia